Peter Ablinger:
IEAOV
Instrumente und ElektroAkustisch Ortsbezogene Verdichtung
("NERZ UND CAMPARI")

variable Versionen, zB. 1 Tag, 1 Instrumentalist, 8 Stücke, oder ein Vielfaches davon (1998), 6 Stunden/Tag, in Zusammenarbeit mit Claudia Doderer: Raumgestaltung
variable versions, f.e. 1 day, 1 instrumentalist, 8 pieces, or a multiple of 8; 6 hours/day


> general introduction to IEAOV pieces


Instrumente und ElektroAkustisch Ortsbezogene Verdichtung ("Nerz und Campari"), a work between concert and installation, involving live-musicians, electronics, and an invironment of light and the design of audience's space, 1998; Program: Wolfgang Musil, Vienna. Premiered Kammerensemble Neue Musik Berlin, Podewil, Berlin, 1998




Photos 1-4: Podewil, Berlin, 1998, space and light: Claudia Doderer, Nils-Reiner Schulze
Photos 5-7: Alte Thalia, Graz, 2000, space and light: Claudia Doderer, Ursula Musil, Winfried Ritsch
The work IEAOV ("Nerz und Campari") is the conjunction of a performance situation with an environmental installation, a listening space for an audience that can sit or lie about, concentrate or dream at an invironmental sculpture, a movable ensemble of seat modules: red ("Campari") and white ("Nerz") cushions for the use of the people.
The entire duration of the piece is based on the temporal module of a 45 minutes sequence, consisting of a 5 minutes appearance of an instrumentalist, playing one single scale of 20c-steps (microtones in the size of the fifth of a semitone) pacing off the full range of its instrument from the lowest to the highest note. Immediately after its last tone the electronic verticalisation starts, projecting the totality of sounds from the last 5 minutes as its simultaneous superimposition, including not only the player's tones but also every other sounds coming from the audience or the surrouding invironment.
The spectral sum of that time period remains now for 40 minutes, creating a "large", "wide" surface-noise, a static sound-wall of inner complexity, as it cannot be captured at once, but can only by experienced by spending some time with it, by first getting accustomed to ist density and then, little by little, by staying still or by walking around, discovering the varity of the spectrum interacting with our perceiption.
Right after 40 minutes the instrumentalist stands ready for another "palette", the same 25c-scale but with different dynamic, to create the next "electro-acoustic site-specific condensation". On the basis of that 45 minutes module - "palette" plus "condensation" - a number of pieces are lined-up forming the desired lenght of the installation, i.e. one instrumentalist per day, or a sequence of days with changing instrumentalists.
Usually the piece has been presented in three- or four days versions, each day with another instrumenatlist (i.e.: alto-saxophone, cello, flute, horn), each of them performing 8 pieces, which is 6 hours in total per day.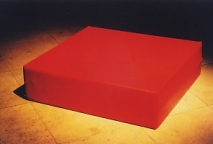 Requirements for IEAOV ("Nerz & Campari"):
variable instruments with microtonale intonation, MaxMSP, 1 microphone, 4 or more loudspeakers

Software: Wolfgang Musil

For the red and white seat modules and for informations about the light design, as well as for score, technical set-up and software contact the publisher:



ZEITVERTRIEB WIEN BERLIN
Dr. Siegwald Ganglmair, Ruprechtsplatz 4-5/10, A - 1010 Wien,
T: ++43 / 699 / 103 183 74, AB/F: ++43 / 1 / 535 12 66
> palettes, first page for alto-sax
> Text zu Nerz und Campari
> listen to detail from saxophone verticalisation
> CD
> Text zur IEAOV-Serie
> complete list of IEAOV pieces
> general introduction to IEAOV pieces
see also:
> Konzert-Installationen / Concert-Installations
english edited by Bill Dietz