Peter Ablinger:

"... mit äußerster Präzision" / das Mehrspurmetronom
the multi-track metronome, a note from 1988, realized 2020



Inspiriert von einem Nancarrow-Konzert im Haus der Kulturen der Welt in Berlin am 20.11.1988 stellte ich Überlegungen an zu einem Set-up mit Mehrspurmetronom, wodurch mehrere Spieler je mit einem eigenen simultanen Metronom-Puls versehen werden könnten.
Inspired by a Nancarrow concert in the 'Haus der Kulturen der Welt' in Berlin on November 20th, 1988, I started thinking about a set-up with multi-track metronome, whereby several players could each be provided with their own simultaneous metronome pulse.


4 musicians with headphones(-metronome), notebook 1988

Bald unter dieser grundsätzlichen Überlegung folgte der Gedanke, "das Kopfhörer-Taktell einmal für eine traditionelle Musik (Bläserquintett) anzuwenden: sie setzen alle gleichzeitig ein und dann, langsam, langsam, geht es immer weiter auseinander, und zwar mit äußerster Präzision..."
Soon after this general consideration, the idea followed "to use the headphone-metronome for traditional music (wind quintet): they all start at the same time and then, slowly slowly, it goes further and further apart, and with the utmost precision ..."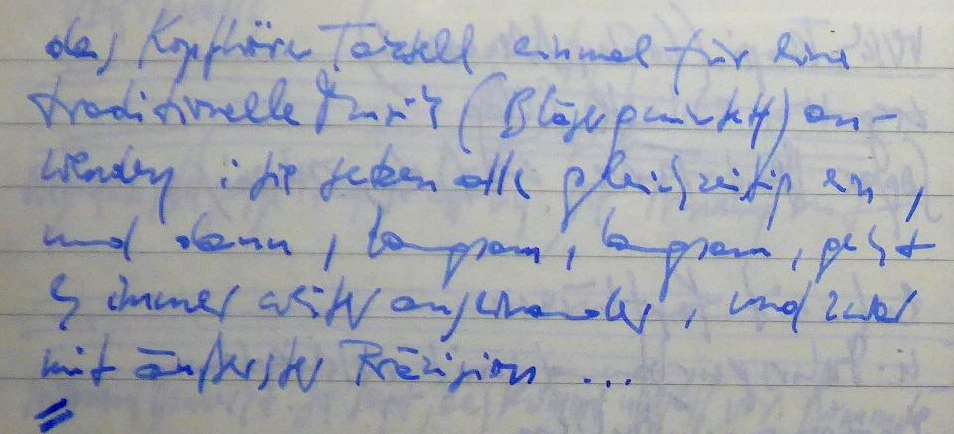 "mit äußerster Präzision", notebook 1988

2020 schließlich, besorgte ich mir 3 Bläserquintette der klassischen Epoche, schrieb die Stimmen in ein Notenschreibprogramm, um sie als Audio-file exportieren und anschliessend in der Zeit manipulieren (dehnen/stauchen) zu können.
In 2020, I finally got myself 3 wind quintets from the classical era, wrote the parts into a music notation program in order to be able to export them as audio files and then manipulate (stretch/compress) them in time.
Hier die so behandelten Schlusssätze (bzw. bei Nr.2 der Anfang des Finales) in einer (Corona-sicheren) Midi-Simulation:
Here are the final movements treated in this way (or, in case of number 2, the beginning of the 'finale') in a (Corona-safe) midi simulation:
1. Joseph Haydn, Divertimento 1, B-Dur, Hob. II.46, 1782, Rondo (alternative player)

2. Anton Reicha, Bläserquintett, Es-Dur, op.8/2, 1818, Finale (beginning) (alternative player)

3. Franz Danzi, Bläserquintett, B-Dur, op.56/1, 1821, Allegro (alternative player)


realized with technical support of João Pais; english un-edited


for material and practical information contact the publisher:


ZEITVERTRIEB WIEN BERLIN
Dr. Siegwald Ganglmair, Ruprechtsplatz 4-5/10, A - 1010 Wien,
T: ++43 / 699 / 103 183 74, AB/F: ++43 / 1 / 535 12 66



back to: Zettelkasten
impressum \ this page was created by

Aljoscha Hofmann \ last edited 22.12.2020 CET