Peter Ablinger:
AKKORDEON UND RAUSCHEN
1997/99
5'30", accordion, CD


Rauschen produced with technical support of Thomas Musik at IEM Graz



A piece for "accordion and noise", a "suprematistic story" in 7 short parts, showing the metamorphosis from a horizontal into a vertical line.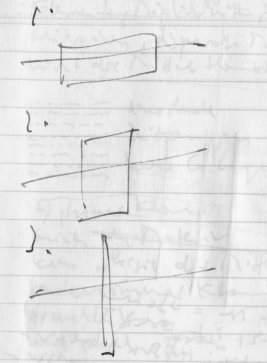 Drawing from sketchbooks for "accordion and noise", the metamorphosis from the horizontal to the vertical


AKKORDEON UND RAUSCHEN

Eine kleine "suprematistische" Geschichte in 7 kurzen Abschnitten, in deren Verlauf sich eine Horizontale (ausgehaltener Ton) sukkzessive in eine Vertikale (elektronischer Knacks = im kürzest möglichen Zeitraum erklingen alle Frequenzen gleichzeitig) verwandelt. Horizontale und Vertikale ergeben im 6. Abschnitt ein Kreuz. Im darauffolgenden, letzten Abschnitt dann: Berliner Stadtgeräusche und eine Abwärtstonleiter; die Durchdringung des Konkreten mit dem Anwesenden.




"accordion and noise", proportions

> listen to part 6 and 7: in part 6 the vertical is represented by a short pop. part 7 is the epilogue where the "abstract" story turns into the permeation from concret noises (a field recording from the "book of songs") and the presence (of performance, respectively the performer). Akkordeon: Krassimir Sterev

> full score download!

> audio-material to create performance-CD (10MB)!


for score and performance-CD, as well as for more informations, contact the publisher:



ZEITVERTRIEB WIEN BERLIN
Dr. Siegwald Ganglmair, Ruprechtsplatz 4-5/10, A - 1010 Wien,
T: ++43 / 699 / 103 183 74, AB/F: ++43 / 1 / 535 12 66



see also:

> 2 strings and noise

> Instrumente und Rauschen

> WEISS / WEISSLICH 17, Instrument und Rauschen

> Rauschen, documentation


back to: worklist
this page was created by

Aljoscha Hofmann. last edited 18.01.2008 CET