Peter Ablinger:
Wildbienenbeete / Wild Bee Beds
(Weiss/weisslich o. Nr.)

listening to the bees, 2022
Anfang Juli 2022, bei einer Wanderung ausserhalb Berlins, standen auf einem Feld nebeneinander grössere Mengen der Büschelblume wie auch des Borretsch. Beide Pflanzen wurden von vielen Hummeln/Wildbienen besucht, aber jeweils nur von einer Art: Die Büschelblume wurde von einer dicken Hummelart, der Borretsch von einer kleineren Art, bzw. Wildbiene besucht. Das ergibt, je nach Pflanze, dann auch einen anderen Klang, ein anderes Brummen.
Überlegung daher: Wildbienenbeete zu pflanzen nach gewissen Ordnungsschemata - nach den bevorzugenden Bienenarten (und somit nach Klang), oder/und auch nach Farben. (In der Zeichnung unten ein wenig die frühe Farbfeldmalerei assoziierend, rechts gar ein "Mondrian-Beet")
In early July 2022, during a hike outside of Berlin, there were larger amounts of both tansy phacelia and borage in a field next to each other. Both plants were visited by many bumblebees/wild bees, but each only by one species: The tansy phacelia was visited by a thick bumblebee species, the borage by a smaller species, or wild bee. Depending on the plant, this results in a different sound, a different humming.

Consideration therefore: to plant wild bee beds according to certain order schemes - according to the preferring bee species (and thus according to sound), or/and also according to colors. (In the drawing a little associating the early color field painting, on the right even a "Mondrian bed").
| | |
| --- | --- |
| | |
Genauere Details hängen z.T. vom Standort ab. Sobald der feststeht, kommen ortsspezifische Recherchen dazu, um möglichst ortsübliche Pflanzen wählen zu können. Allerdings dürften viele bekannte Hummelfreunde (wie Huflattich, Pestwurz, Löwenzahn, Wilde Möhre, viele Kleearten, Margerite, Schafgarbe, Kratzdistel, Glockenblume, Malve...) zumindet in Mitteleuropa ein sehr weites Einzugsgebiet haben. Desweiteren soll nicht nur die Gleichzeitigkeit verschiedener Gewächse beachtet und gestaltet werden, sondern auch die sich abwechselnden Blütenphasen, sodass möglichst die ganze schneefreie Zeit über Blüten vorhanden sind und Bienen angelockt werden.
Übrigens waren bei den alten Griechen sowohl das Baumrauschen als auch Bienensummen Orakelquellen (vgl. das Eichenheiligtum von Dodena und die weissagenden Bienen des Parnass).
Dem Vorgang des aufmerksamen Zuhörens entspricht eine Zusatz-Überlegung, nämlich, die Beete mit einem Holzrahmen zu umgeben, auf den frau sich setzen, und sich Zeit nehmen kann zum Beobachten und (der Weissagung) Lauschen.
More details depend partly on the location. As soon as the location is determined, site-specific research will be done in order to suggest plants that are as local as possible. However, many known bumblebee friends (such as coltsfoot, butterbur, dandelion, wild carrot, many clovers, daisy, yarrow, thistle, bellflower, mallow...) probably have a very wide catchment area, at least in Central Europe. Furthermore, not only the simultaneity of different plants would be considered and designed, but also the alternating flowering phases, so that, if possible, flowers are present throughout the snow-free period and bees are attracted.

Incidentally, among the ancient Greeks, both the rustling of trees and the buzzing of bees were sources of oracles (cf. the oak sanctuary of Dodena and the prophesying bees of Parnassus).

The process of attentive listening corresponds to an additional consideration, namely, to surround the beds with a wooden frame, on which one can sit down, and take time to observe and listen (to the divination).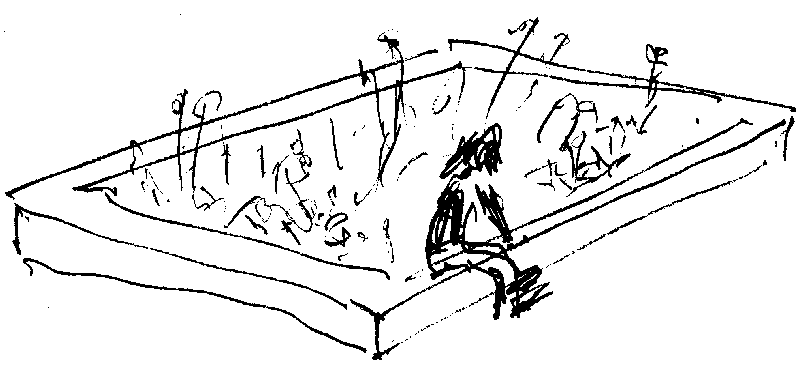 Hier also zwei "gerahmte" Beete, diesmal eher in einer "tachistischen" Farbgebung - das dürfte rein gärtnerisch realistischer sein:
So here are two "framed" beds, this time in a more "tachist" color scheme - that might be more realistic from a purely horticultural point of view: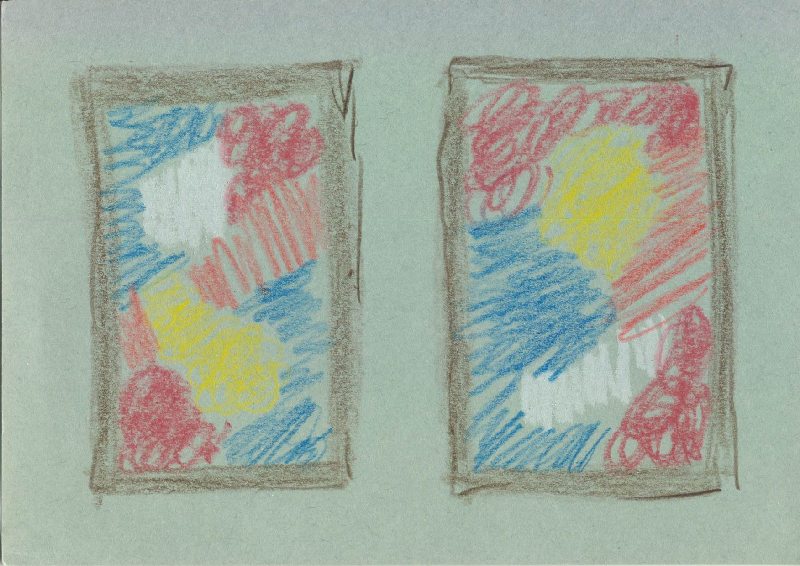 Die Blütenfarben - zum Beispiel - weiss: Schafgarbe, gelb: Bocksbart, rot: Rotklee, blau: Büschelblume, violett: Kratzdistel
The flower colors - for example - white: yarrow, yellow: meadow goatsbeard, red: red clover, blue: tansy phacelia, purple: creeping thistle.
compare:
Bienenstock / Beehive
Schilf / Reed
Schnee / Snow
Regen/ Rain
Alpensinfonie
Tortilla Chips