Peter Ablinger:
CO2-COUNTDOWN
for one or many voices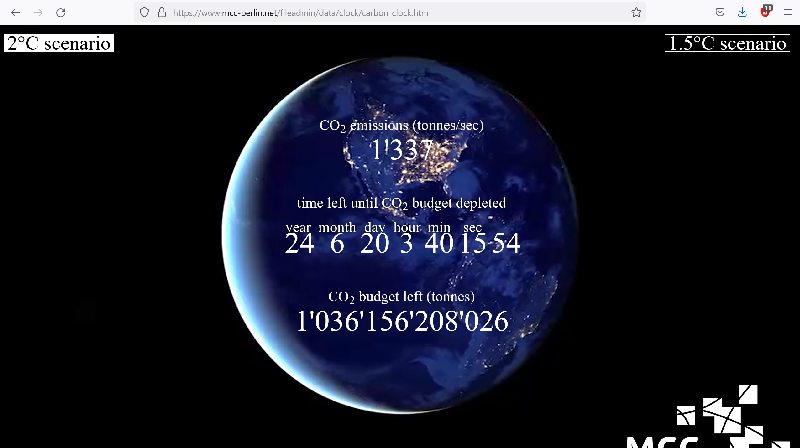 The "Carbon Clock" from the MCC-hompage on 10/10/2022. It is based on the remaining CO2 budget (in tonnes) quantified by the Intergovernmental Panel on Climate Change.
Score for "CO2-Countdown":
open the MCC-hompage
choose scenario (2°C/1,5°C)
count the remaining time
in the example above you would say:
"24 years, 6 months, 20 days, 3 hours, 40 minutes and 15 seconds"
etc.
or, if you prefer, count the tonnes left, e.g.:
"1 trillion, 36 billions, 156 millions, 208 thousands and 26 tonnes"
etc.
Countdown

Time Pieces
Krisen/Zyklus, Crisis/Cycle
Krisen/Blog, Crisis/Blog
MUSIC AND CLIMATE:
Kulturschätze der Menschheit
solidarisieren sich mit der Letzten Generation
Cultural Treasures of Humankind
stand in solidarity with the Last Generation
back to: worklist
impressum \ this page was created by

Aljoscha Hofmann \ last edited 10.10.2022 CET