Ohren zu/auf
Notizbucheintragungen seit 1995
Ears closed/open
notebook entries since 1995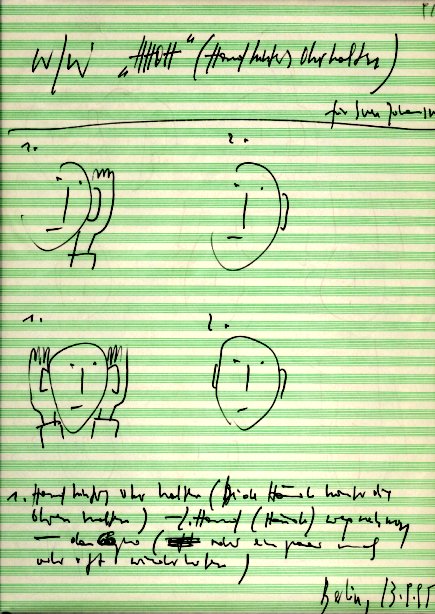 Hand hinters Ohr halten/wegnehmen, 13.9.1995
move hands behind ears/remove, 13.9.1995



Mund, Augen, Ohren zu, 27.7.1996
mouth, eyes, ears shut, 27.7.1996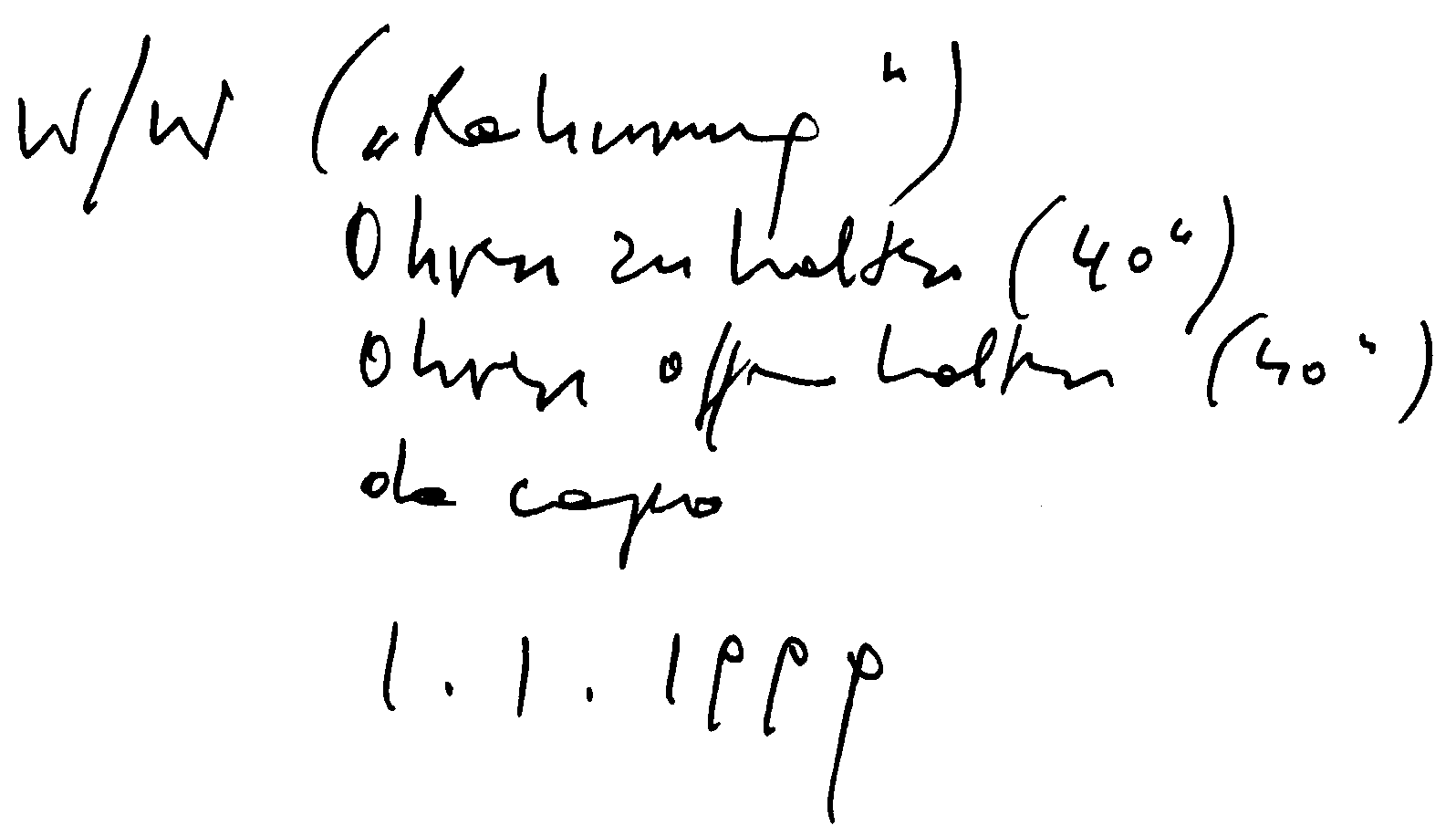 Weiss/Weisslich ("Rahmung")
Ohren zu halten (40")
Ohren offen halten (40")
da capo
1.1.1999
White/Whitish ("Framing")
Keep ears closed (40")
keep ears open (40")
da capo
1.1.1999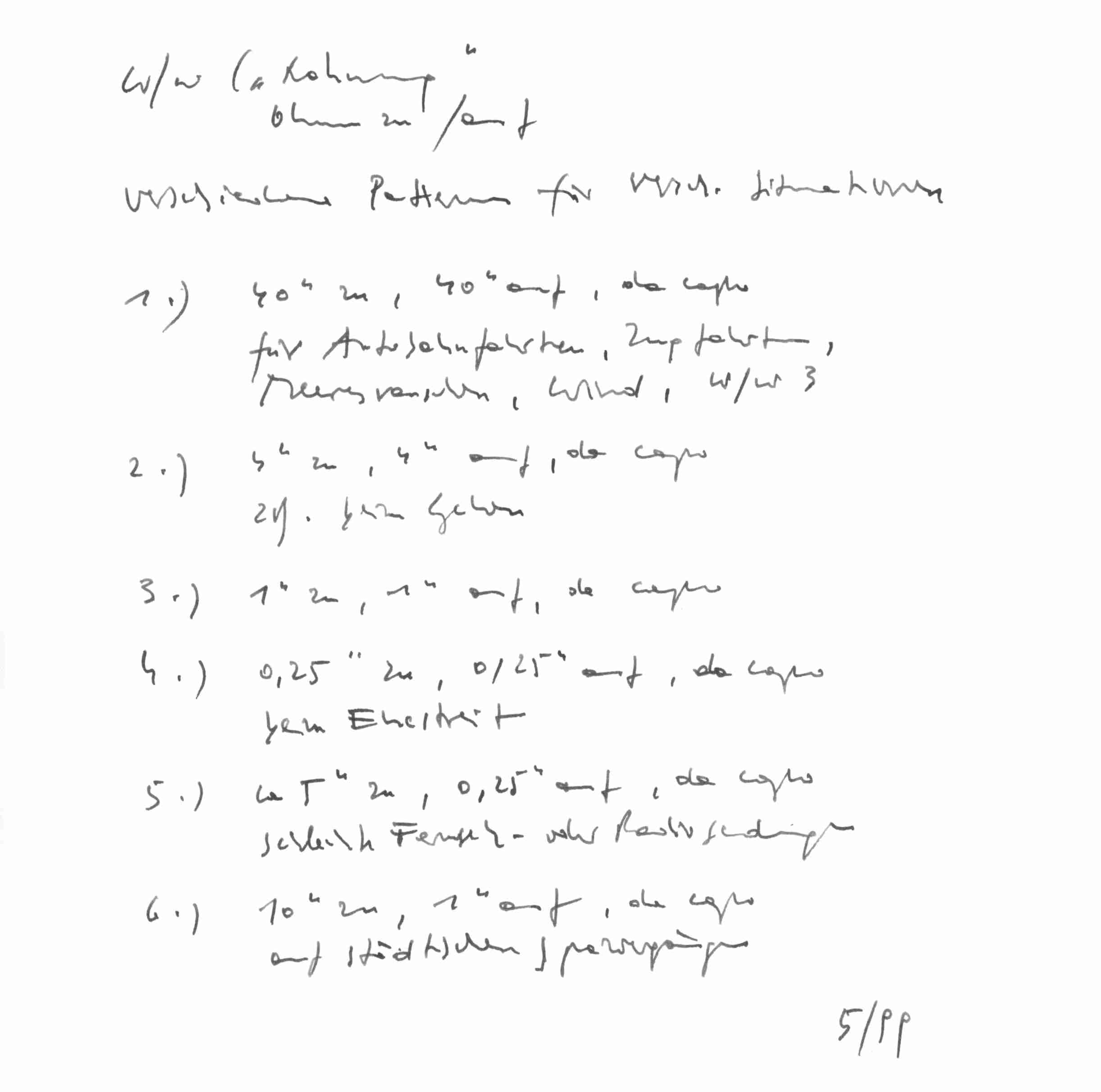 Weiss/Weisslich ("Rahmung")
Ohren zu/auf
verschiedene Patterns für verschiedene Situationen
1.) 40" zu, 40" auf, da capo
für Autobahnfahrten, Zugfahrten,
Meeresrauschen, Wind, Weiss/Weisslich 3
2.) 4" zu, 4" auf, da capo
zB. beim Gehen
3.) 1" zu, 1" auf, da capo
4.) 0,25" zu, 0,25" auf, da capo
beim Ehestreit
5.) ca. 5" zu, 0,25" auf, da capo
schlechte Fernseh- oder Radiosendung
6.) 10" zu, 1" auf, da capo
auf städtischen Spaziergängen
Mai 1999
White/Whitish ("Framing")
Ears closed/open
different patterns for different situations
1.) 40" closed, 40" open, da capo
for highway driving, train driving,
ocean noise, wind, white/whitelight 3
2.) 4" closed, 4" open, da capo
e.g. when walking
3) 1" closed, 1" open, da capo
4) 0,25" close, 0,25" open, da capo
during marital quarrel
5.) approx. 5" closed, 0,25" open, da capo
bad TV or radio broadcast
6.) 10" closed, 1" open, da capo
on urban walks
May 1999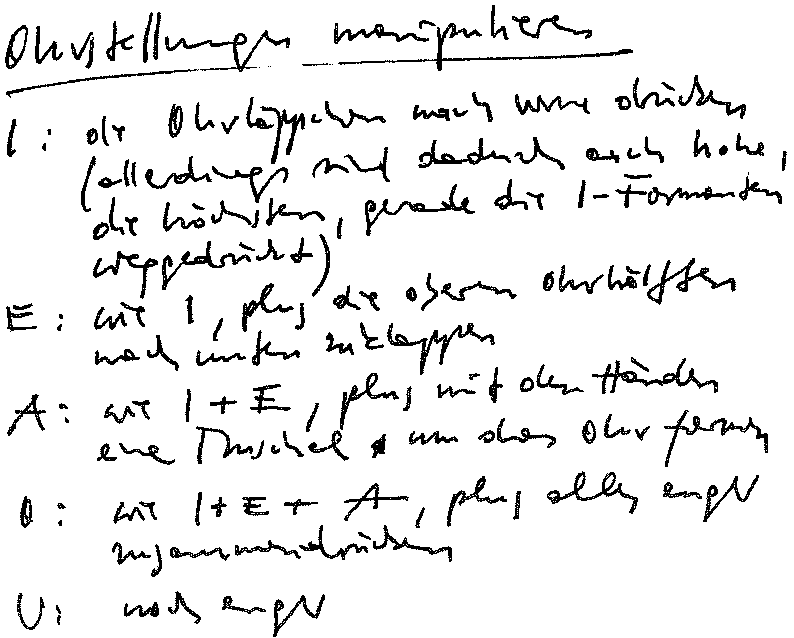 Ohrstellungen manipulieren
I: die Ohrläppchen nach vorne drücken
(allerdings sind dadurch auch hohe,
die höchsten, gerade die I-Formanten
weggedrückt)
E: wie I, plus die oberen Ohrhälften
nach unten zuklappen
A: wie I+E, plus mit den Händen
eine Muschel um das Ohr formen
O: wie I+E+A, plus alles enger
zusammendrücken
U: noch enger
Notizbucheintragung 2007
Die Filterwirkung der verschiedenen Manipulationen wird deutlich bei statischen Rauschen.
Manipulating ear positions
I: push the earlobes forward.
(however, this also makes high,
the highest, exactly the I-formants
pushed away)
E: like I, plus fold downwards
the upper ear halves
A: like I+E, plus form a shell
with the hands around the ear
O: like I+E+A, plus squeeze everything tighter
together
U: even tighter
Notebook entry 2007

The filtering effect of the various manipulations becomes clear with static noise.
Hände hinter's Ohr / vor's Ohr
2 Fotografien 2022
Hands behind the ear / in front of the ear (2022)
2 photographs 2022
vergleiche
/ compare:
WEISS / WEISSLICH 19, Hand hinters Ohr halten/wegnehmen (1995)
move hands behind ears/remove > note
WEISS / WEISSLICH 25, Mund, Augen, Ohren zu (1996)
mouth, eyes, ears shut > note
WEISS / WEISSLICH 25b, Ohrstöpsel (2010)
earplugs > note
WEISS / WEISSLICH 15, A-E-I-O-U, Vokalstück (2012)
earplugs > note