OPERA/WORKS

An opera for various jointly networked places and times, a modular concept resulting from the meeting of different art forms (literature, concert, installation, film, performance, architecture), a work-in-progress that emerges newly in each new location and every new city and which makes each respective city and location themselves objects of the opera.



OPERA/WORKS
Cityopera Graz in 7 Acts
2000-05
The Cityopera has been relized in September and October 2005 during the festival Steirischer Herbst

The Cityopera Graz consists of seven autonomous and independent yet interrelated acts, where each act establishes another art form - in this case: installation, concert, literature, performance, architecture, public intervention and film with live-music. Some acts are entirely site-specific and not to transplant into another city, but other acts can, togehter with completely new to creating acts, result into a further city- or even landscape-opera.
1st Act: THE SINGING
36 tables, 36 CD-players
an acoustic topography of the city Graz in approx. 400 individual recordings
2nd Act: THE ORCHESTRA
for CD and orchestra
2.2.2.2.,4.2.2.,Harp,Piano,10.10.8.8.6, 69 minutes
3rd Act: THE LIBRETTO
a book by Yoko Tawada
4th Act: THE PLOT
for 6 analog tape-players, an actress, and max. 6 visitors, 7 minutes per performance
5th Act: THE SET
architectural intervention in city-space, 6 white corridors
6th Act: THE SEATING
36 chairs as hearing sites, daily changing locations in city-space
7th Act: THE AUDIENCE
2 parallel films by Edgar Honetschläger
and a composition for city noises, speech, and instrumental sounds (2 ensembles - each with flute, clarinet, horn, trumpet, trombone, 2 violins, viola, cello, and 2 computer-controlled pianos)
69 minutes
With the aim of heightening attention and perception, the Cityopera Graz reflects upon the elementary components that constitute opera as a form of art. Seven autonomous and independent yet interrelated main sections form an aesthetic 'medley' of topics revolving around the thematic circle of "Opera / Works". Total revaluation of all values: resolutely and emphatically, the project turns the whole conglomerate form of opera on its head, while at the same time making constructive suggestions as to what forms contemporary opera might assume. It centers on the meeting of different forms of art (and the focus on hearing that links them all), above all the authenticity of the individual arts, their intrinsic forms of reception and perception, and their resulting social configurations: with a champagne glass in a gallery, a seat reservation in a row of chairs, or alone with a book. For the actor is no longer a fictitious figure, but is rather the listener and perceiver of the here-and-now. "Opera/Works" addresses the plurality of forms of works and effects. The composer is no longer restricted to filling up manuscript paper. He is at once a sound artist and sound ecologist, reflecting on the role of music and of art institutions.
Text: Wolfgang Hofer, translated by Bill Dietz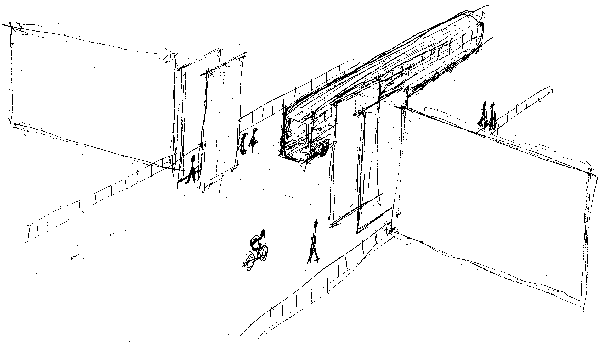 for more details
(texts, descriptions, photographs, drawings)
go to:
Opera/Works is an opera conceived in 7 acts, the individual parts (acts) of which stand not only as autonomous works, but also as an interconnected network of complex and refined formal and thematic quotations and references, the facets of which, in their richness, both approach and reflect upon 'the City'. With these individual acts - works -, the principle of opera ('Gesamtkunstwerk') is radically challenged. Opera, here defined as the coming together of various art forms that can also just as well again be separated, each with its own claim to its own unique perceptual space: A reevaluation of all established values, connected with a vivid transformation of our horizons of experience.
Text: Wolfgang Hofer, translated by Bill Dietz
ART AND CULTURE
an essay by Peter Ablinger
written in 2003
generals about opera and musictheater,
seeing them as two anthithetic principles
TEN QUESTIONS ABOUT "CITYOPERA"
Questions by Chiyoko Szlavnics,
Answers by Peter Ablinger
Stuff and venues for CITYOPERA GRAZ
Oct 1-23, 2005